La Stampa Dice

Podcast: SAFm

(11:08 min)




("Click" qui alla destra per salvare l'informazione)
Joburg.co.za
I have also found a wonderful Italian Pasta and Delicatessen Shop for those of you looking for a new lunch venue to try!
Tortellino D'Oro
is situated in the Oaklands Shopping Centre on Glenhove Road and is open from 8am - 6pm on weekdays and 8am - 3pm on Saturdays and Sundays. The food is unbelievably good and the delicatessen contains a wide range of homemade pasta, variety of sauces, enormous selection of breads, olive oils, antipasti and so much more. Call +27 11 483 1249 for details.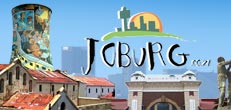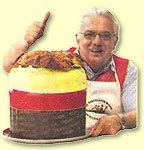 Christmas Italian Style - Sunday Times November 2008
Hilary Biller takes a look at the
traditional panettone
, set to give the old fruitcake a run for its money.
For the Bollini family of Tortellini D'Oro in Oaklands, Jo'burg, panettone has been part of the Christmas tradition since they opened their delicatessen some 30 years ago. "Their popularity in SA has grown tremendously," said Caterina Bollini. The decorative boxes form part of the appeal and Bollini believes many are bought as gifts. To check if a panettone is authentic, look for pin pricks on the base where it has been hung. Traditionally, panettones are left to cool upside down for 10 hours to retain moisture and texture.

The Bollinis' favourite way of serving it for Christmas is to stuff it with ice cream. The loaf is hollowed out, the filling chopped up and added to ice cream, which is layered in different flavours in the hollowed­out crust, wrapped in foil and frozen till needed.


PJ Powers
When not preparing food herself, PJ indulges in Italian cuisine at a good, family-run Italian restaurant. One of her favourites is Tortellino D'Oro, run by the Bollini family. 'They only have about eight things on their menu which, as a rule, I prefer. It means you're getting a good selection of freshly prepared meals every day. It's pricey, but I believe you get what you pay for and the quality is fantastic.
Dion Chang - ELLE Magazine June 2003
Sometimes you long to have a delicious, yet stylish lunch, without an insufferably trendy crowd for company. Tortellino D'Oro is such a place. Essentially an Italian deli, with a few tables covered with crisp white linen, its location is unremarkable, yet central. This eatery receives ELLE recommendation for its effortless style (it's owned by the Bollini family, with daughter Caterina the catering supremo). The food is sublime, and when you ask for a post-lunch coffee, it's not the individual cafetieres accompanied by a mini florentine that impress, but the thoughtful shot-glass of mineral water to end things off. Nothing quite beats attention to detail. Subtle, simple but stylish.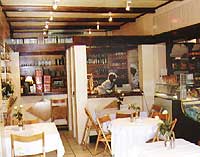 KITCHENBOY - The Weekender 3 November 2007
Artichokes - the edible thistle.
Dante Bollini, with his wife and daughter, started this dedicated Italian delicatessen 21 years ago. They specialise in freshly made pasta and offer a big range of sauces to go with it.
The artichokes are a different kettle of fish, with Italians practically having invented this edible thistle. The deli offers at least four artichoke dishes, stuffed, an artichoke tart, the unbelievable artichoke lasagne and Amalanka's passion.
La Stampa Dice

WINE.co.za

Joburg Happenings

Eat In

Young South Africans: Sport

Joburg.co.za

Financial Mail - FM Life

Financial Mail - Arts & Leisure

Die Beeld

Sunday Times' Breakfast Bandit
Perfect score of 5 bags of loot!
Very few eating establishments can pride themselves on receiving a perfect score of five out of five bags of loot, Tortellini D'Oro is one!